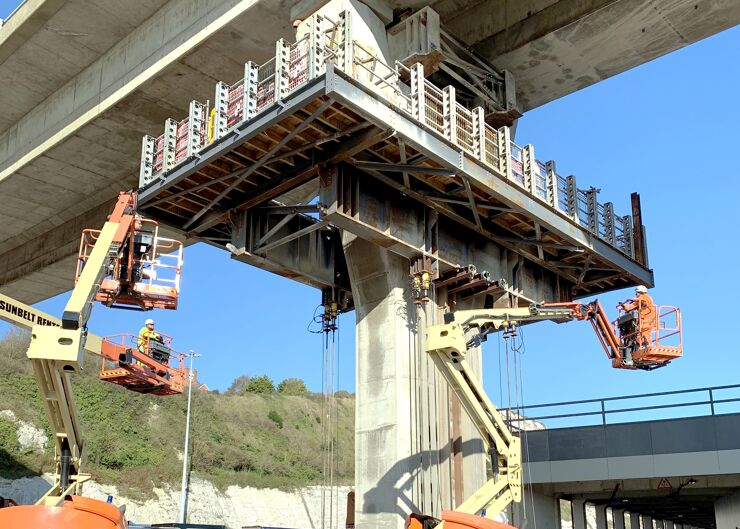 NEC Users' Group platinum member National Highways has used a range of NEC4 contracts to procure £59.9 million worth of highway construction work in south-east England. It let its Area 4 construction works framework to Costain Limited under an NEC4 Term Service Contract (TSC) in November 2020, and the last of 147 task orders was completed in July 2023. These were let under an NEC4 Engineering and Construction Contract Option A (priced contract with activity schedule), Option C (target contract with activity schedule) or Option E (cost reimbursable contract). The framework was runner up in the 2023 NEC Transport Contract of the Year Award.

Area 4 consists of 450 km motorways and A-roads in Kent, Surrey and East and West Sussex. While only accounting for 2% of the national total, these roads carry 75% of all heavy goods traffic as the gateway to Europe. Key stakeholders include the Port of Dover, Channel Tunnel, Newhaven port, multiple local authorities, Brighton and Hove Albion football club, and Bluewater shopping centre. The previous asset support contract for the area ended in 2020 and National Highways was transitioning to its new scheme delivery model, which involved a phased transfer of contract staff to direct employment. NEC Users' Group gold member Costain was therefore engaged on an interim basis to cover the transition period.

The TSC had three works orders, each of which had a number of task orders. These ranged in scope from resurfacing, drainage and technology to more complex civil engineering such as bridge bearing replacements and embankment stabilizations with up to 300 personnel on site. Costain also provided early contractor involvement to the Area 4 design service provider Jacobs Engineering, set target prices and task order programmes, coordinated access and engaged with stakeholders. National Highways was the TSC service manager and ECC project manager and supervisor.
Trust and co-operation
Costain senior project manager Marcus Hollan says it was vitally important that the works were delivered during the transition period. 'We faced the additional challenges of mobilising during the first Covid-19 lockdown, finding new ways of working with a brand-new team of transferred staff and quickly putting in new processes to enable us to collaborate and be at our best to deliver the project objectives. It was therefore vitally important that all parties delivered the works in accordance with the NEC contracts and acted in the required "spirit of mutual trust and co-operation".'

He says the contractor recognised from previous experience that real trust and collaboration came from a common understanding of NEC processes. 'During the mobilisation period, our NEC-accredited team members therefore created and delivered in-house training to our new colleagues, the client and our key suppliers. This paved the way for a smoother and more consistent, open and transparent way of working from the outset.'

Hollan says the contractor submitted information on all its 29 proposed subcontractors to the project manager for approval within the short three-month mobilisation period. 'The project manager worked pragmatically with us due to the time constraints and both parties had the best interest of the programme at heart.'
Clear communications
He says the contractor used Cemar contract management software to manage a total of 8381 NEC contract communications during the 32-month service period. 'We jointly defined how we would use the various types of communication, information and proforma wording to avoid ambiguity, and then consistently applied it in accordance with the contract. We also ensured that we adhered to the TSC requirements of the contractor's plan and task order programmes as we recognised the importance of having a regularly updated and accepted programme. We jointly agreed the contents of the narrative and the information provided to avoid the arguments that could otherwise occur.'

Hollan says the contractor chaired weekly collaborative planning sessions with client and designer. 'As we had to communicate predominantly via Microsoft Teams due to social distancing requirements, we jointly agreed a process for short-term planning and progress monitoring. This was one of the pillars of success and enabled trust, understanding and cooperation. We also agreed technical and financial boundaries within which specialist teams could work with the designer to change the design, which halved the duration of some schemes.'
Open-book pricing
In line with NEC requirements, he says pricing for task orders and compensation event quotations were open-book discussions between the client and contractor that built trust. 'Quotations were more often than not accepted first time as the information had been jointly discussed. Weekly early warning notices and compensation event meetings, together with regular ECC Option C and E cost audits, helped to maintain momentum, seek earlier resolution, and ensure the client was fully involved in the process. This avoided confrontation, disputes and late agreements to task orders, compensation events and final accounts.'

Hollan says a total of 798 early warnings were notified and 575 compensation events were implemented. 'Furthermore, 96% of final accounts for all tasks were submitted and agreed during the service period without waiting for the end.'

Area 4 works are now part of National Highways £3.6 billion, NEC4-based scheme delivery framework, for which 50 new suppliers were announced in 2021. Suppliers include NEC Users' Group members Eurovia, Jackson Civil Engineering, Volker, Galliford Try and Dyer & Butler.
Benefits of using NEC
NEC obligation to act in a 'spirit of mutual trust and co-operation' helped to ensure all parties delivered the works despite the challenges of the client's ongoing staff transition and the Covid-19 pandemic.
NEC requirement for open-book pricing of task orders and compensation event quotations helped to build trust and ensure first-time acceptance.
NEC early warning and compensation event processes ensured that issues were resolved early and fairly, such that most final accounts were agreed before the end of the service period.