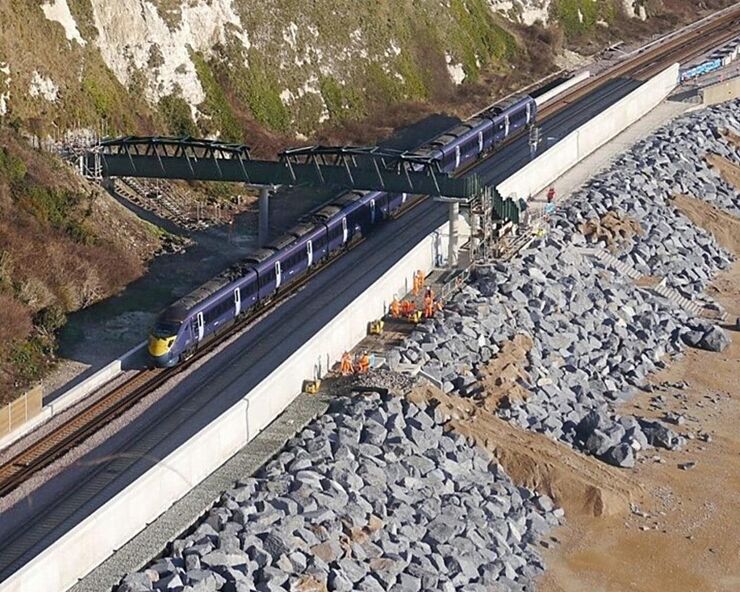 Network Rail had to shut its coastal railway between Dover and Folkestone on 24 December 2015 after a violent storm damaged a supporting sea wall, causing 250 m of track to collapse. A £36 million, NEC-procured project enabled the line to re-open on 5 September 2016, three months ahead of a challenging fast-track schedule.

Contractor Costain and its engineering designer Tony Gee & Partners were initially engaged via Network Rail's Kent multifunctional framework agreement to carry out emergency works and outline design under an NEC3 Engineering and Construction Contract (ECC) Option E (cost reimbursable contract). They were re-engaged under ECC Option C (target contract with activity schedule) in February 2016 to design and build the permanent works. All works were completed by February 2017.

The emergency works included stabilising the existing sea wall with a rock revetment protected by sheet piling, enabling investigations to be carried out safely. The permanent works involved working round the clock to reinstate the track on a new 235 m long reinforced concrete slab supported on 132, 0.9 m diameter, 30 m deep piles. A 250 m section of the 8–10 m high sea wall was rebuilt and a further 500 m was given new rock armour. A failing footbridge was also replaced with a corrosion-resistant fibre-reinforced plastic structure.
Encouraging best practice
Network Rail project manager Phil Avery says, 'We chose NEC contracts as they are drafted to encourage best practice in project management within a partnering environment. They contain specific provisions relating to management of risk such as early warnings, risk reduction meetings and transparent allocation of risks. They also support our goal of more collaborative working arrangements with our framework partners, which was vital for successful delivery of this challenging emergency project.

He says the initial work was awarded under an ECC Option E cost-reimbursable contract as the solution and scope of work was not entirely known at the outset. 'This allowed us to proceed with emergency works, undertake the outline design and engage key suppliers for the permanent works. These were then awarded under an ECC Option C target cost contract, which sets the right environment for the contractor to be as efficient as possible, deliver right first time and share from that saving.'

The main works contract included a 50/50 pain/gain mechanism, which was a key driver in aligning the objectives of the client and contractor to work together as a team to reduce cost and make savings. 'Having a 50/50 split was chosen as a way for both parties to share joint risk equally and help to develop partnering behaviours,' says Avery. 'Using the two NEC payment options provided the necessary contracting mechanisms to deliver our requirement for the earliest reopening of the line with a design life of 120 years.'
Fast-track completion
Costain project director Charly Clarke says, 'I believe the NEC early warning and risk mitigation meetings were crucial in helping the railway line open as soon as possible. Going through the project risks on a weekly and sometimes daily basis helped to identify the problems that could occur and the best party to deal with them in terms of time, cost and quality. We also used Cemar software to support administration of the contract.

He says NEC processes combined with early engagement of the supply chain led to alignment of goals and full collaboration of the project team, resulting in the delivery of a quality product within demanding programme limits. 'Working 24/7 in a constrained linear site with multiple elements of heavy plant, the project also achieved an outstanding safety record with no lost time incidents.'
Benefits of using NEC
NEC contracts encourage best practice in project management within a partnering environment and support collaborative working arrangements with framework partners.
Contain specific provisions relating to management of risk, which is particularly critical for rapid delivery of an emergency project.
Cost-reimbursable ECC Option E suited to emergency works when scope and solution not known at the outset.
Target cost ECC Option C sets the right environment for a contractor to be as efficient as possible in delivering permanent works, sharing from savings through a pain/gain mechanism,