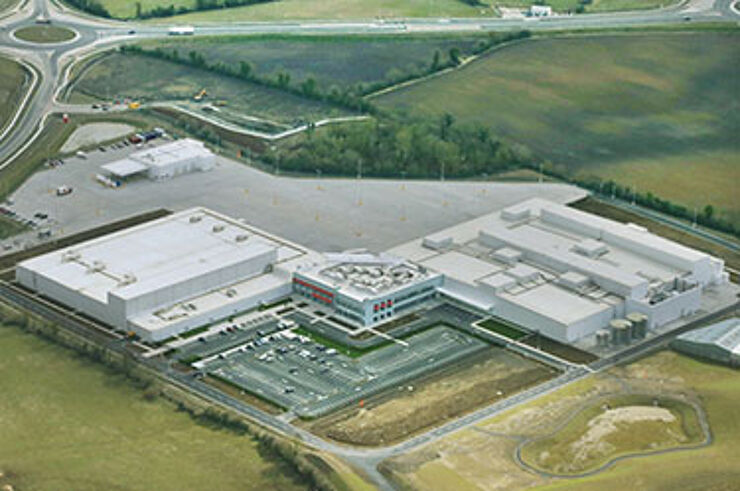 The new Pallas Foods distribution centre at Kilnamonagh just north of Dublin is one of the largest building projects so far procured in Ireland using NEC contracts.
US-based Sysco Corporation, which acquired Pallas Foods in 2009, let the fast-track design-and-build project under an NEC3 Engineering and Construction Contract (ECC) option C (priced contract with activity schedule) in July 2013.
Sysco's exemplar design was adapted for local conditions by Arup, specialist architect Kavanagh Tuite and refrigeration engineer Fitzmaurice Tingle prior to award of the design and build contract. The Arup team also acted as the employer's NEC project manager, administrator and supervisor for the contract.
Detailed design was by TOTP Architects, Punch Consulting Engineers and Ethos Engineering, and construction was by a joint venture of John Paul Construction and Balfour Beatty.
Extensive works programme
The centre comprises a 15 000 m2 steel-framed state-of-the-art refrigerated warehouse, a 13 000 m2 a dry warehouse, 2260 m2 of high-specification offices, 183 truck bays and parking for 330 cars. There is also a separate truck maintenance and refuelling facility on the 16 ha site.
Substantial civil engineering works were required, including 125 000 m3 of earthworks, 53 000 m3 of lime and cement stabilisation, 48 000 m2 of paved areas, 5500 m2 of drainage attenuation ponds, 1 km of access roads and extensive utility works.
The project was successfully completed on time and within budget in February 2015.
Back-to-back NEC contracts
Project manager Ed Ellis of Arup says there were initially over 10 pages of Z clauses in the draft ECC contract. 'After reviewing the contract in detail, the employer's local lawyers confirmed the contract on its own merit was strong enough to protect all parties. The final amendments were fairly minor, totalling just three pages − most of which related to confidentiality.'
The joint venture contractor procured most of its principle subcontractors with the NEC3 Engineering and Construction Subcontract (ECS) option A (priced contract with activity schedule), ensuring 'back-to-back' collaboration throughout the supply chain.
The employer also let several significantly sized direct contracts for specialist equipment and installations using the NEC3 Engineering and Construction Short Contract (ECSC), again fostering a spirit of mutual trust and cooperation across the whole site.
According to Ellis, 'As NEC is still relatively new in Ireland, I arranged a one-day NEC workshop at the start of contract. All project team members and key representatives of the supply chain attended and it was, without doubt, one of the best investments on the project.'
'Despite some initial reluctance of the project team, we shared the risk register from the outset and conducted early warning meetings and risk mitigation throughout. We also managed to maintain a robust programme with monthly updates.
'The pay-off for some of the contractors unused to working with NEC finally came when they realised there would be no traditional arm wrestle over the final account.'
Benefits of using NEC
Delivered a large, state-of-the-art logistics centre, involving a wide range of specialist contractors and sub-contractors, on time and within budget.
Encouraged all parties to work collaboratively and in a spirt of mutual trust and cooperation, ensuring project goals of time, quality and costs were achieved.
NEC early warning and risk management process resulted in no disputes or delays relating to final payments.
Standard ECC contract provides protection for all contracts, but is readily adapted to suit specific client and country requirements.