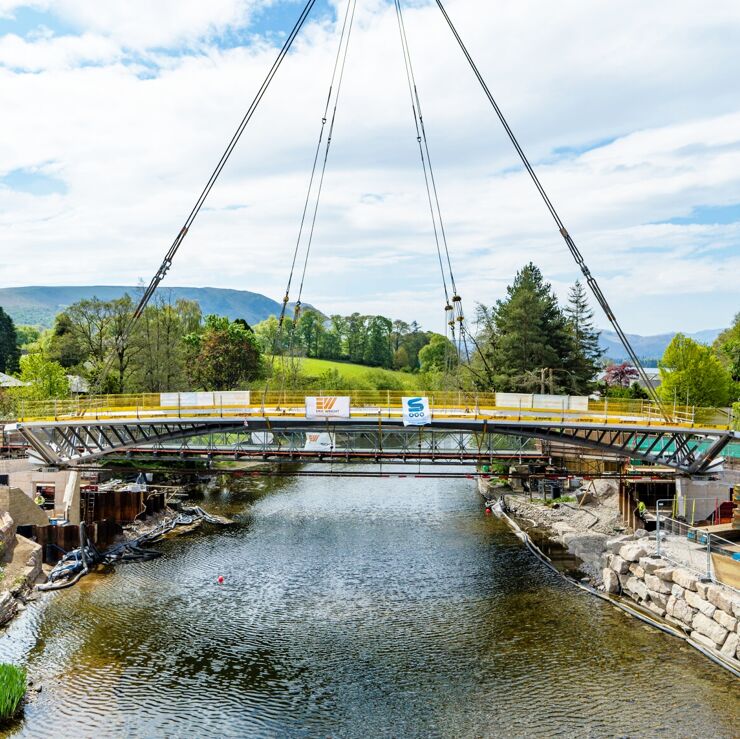 Cumbria County Council has used NEC contracts to procure the UK's first stainless steel road bridge. The new 40 m crossing over the River Eamont at the village of Pooley Bridge is a permanent replacement for an eighteenth-century stone bridge that was swept away by floodwater in 2015.
The £7.6 million project is one of over 1200 in the councils £120 million, NEC-procured infrastructure recovery programme following extensive flooding caused by storm Desmond in December 2015. The storm destroyed the original Pooley Bridge, a grade-2-listed, three-span masonry arch that had stood at the mouth of Ullswater lake since 1764 and given the local village its name. The crossing had become a well-known gateway to the Lake District National Park, a World Heritage Site.
A temporary modular steel road bridge was opened three months after the storm to reconnect the two halves of the village and carry B5320 traffic, but this was downgraded to a temporary footbridge in September 2019 to prepare for the permanent replacement road bridge. The new 300 t stainless-steel and concrete composite structure was lifted onto new reinforced concrete abutments in May 2020 and was opened to traffic in October 2020.

The project won the National Infrastructure Commission's Design Principles Award in the 2021 British Construction Industry Awards.
Two-stage design and build
Like many of the projects in the recovery programme, Pooley Bridge was procured as a two-stage design-and-build scheme. The first stage for detailed design was let to Eric Wright Civil Engineering in May 2018 using an NEC3 Engineering and Construction Contract Option C (target contract with activity schedule) and was completed in February 2019. The second stage, for fabrication and construction, was let to the same contractor in May 2019 under an NEC3 ECC Option A (priced contract with activity schedule) and was on target to be open to traffic in July 2020 until the pandemic hit.
Caroline Leigh, senior manager of the council's capital programme, says, 'Cumbria's entire infrastructure recovery programme has been delivered using various NEC3 ECC main options. The contract suite was chosen primarily because of its approach to collaboration, risk mitigation and commercial flexibility. NEC contracts are also proactive, add value and are written in plain English.' She says the main option combination on Pooley Bridge was designed to provide early contractor involvement to a unique design and build methodology, as well as create commercial tension between the parties to deliver a value-for-money outcome.
Collaborative working
Mott MacDonald's associate senior project manager Craig Mitchell says, 'During the detailed design stage we worked in close collaboration with the community and key stakeholders to ensure the bridge met the aesthetic requirements of its surroundings while being engineered to avoid the maintenance and flood risk issues associated with its predecessor. The design also had to take account of construction sequencing to ensure minimal impact on the environmentally sensitive location.'
He says the result was a decision to build the structure off-line and lift it into place once all on-site fabrication was complete. 'To achieve this in the restricted room available for the construction, it was necessary to look at lightweight high-strength materials that would optimise construction sequencing, while providing the structural properties required to fulfil the needs for the permanent structure. The solution was a single stainless-steel and reinforced concrete composite arch with open spandrels and a reinforced concrete upper deck.'
According to Mitchell, the NEC contracts provided both a project ethos and framework under which the project could be delivered in a collaborative manner. 'Through effective and timely issue of early warning notices together with an inclusive approach to design and commercial meetings, issues where quickly identified and resolved. The processes in the NEC contract provided clear lines of communication within defined timeframes that were easily understood by all parties, allowing quick resolution to any issues and preventing delays. '
Benefits of using NEC
NEC obligation to work in a 'sprit of mutual trust and co-operation' provided an ethos and framework to deliver both the design and construction in a collaborative manner.
NEC early warning and risk-mitigation processes ensured all issues were quickly identified and resolved, with clear lines of communication and defined timeframes easily understood by all parties.
NEC main options provided commercial flexibility, enabling early contractor involvement for the detailed design on a target-cost basis followed by a fixed-price for construction.