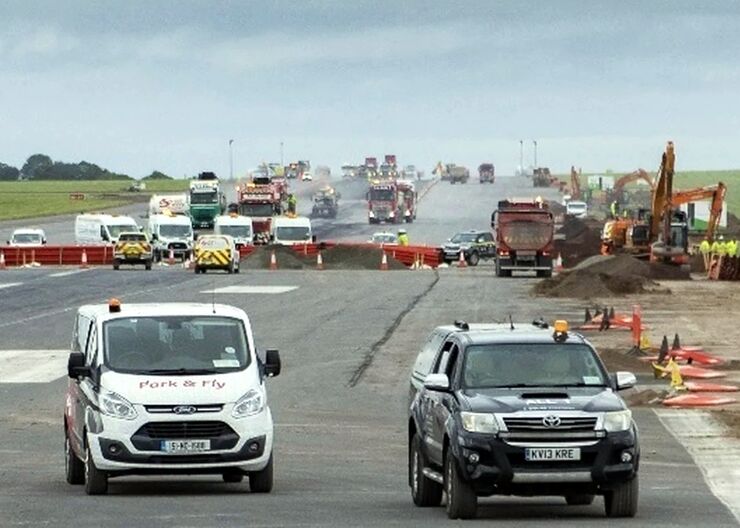 NEC contracts have been used to rebuild the main runway at Ireland's second-largest airport in just 10 weeks. State-owned client DAA let the reconstruction of Cork Airport's runway 16/34 to main contractor Colas Limited under an NEC4 Engineering and Construction Contract (ECC) Option A (priced contract with activity schedule) as part of a €40 million (£35 million) investment between 2020 and 2022.
The work involved rebuilding the 2133 m long runway using various techniques during a tight 10-week shutdown of what is also Ireland's fastest-growing airport. Most of the runway was built in 1961 and resurfaced in 1999. This was planed in central areas up to 150 mm deep overlain with up to 220 mm of concrete subbase and asphalt regulating, base, binder and surface courses. A 300 m long extension built in 1989 was broken out and rebuilt as a new 500 mm deep pavement.
A total of 4,000 t of concrete and 47,000 t of asphalt was needed to reconstruct the 45 m wide pavement, requiring a total of 2,550 delivery trucks. Other works included installing 440 airfield ground lighting pits, 750 light fittings, 58 km of cable and drainage ducts, and 110 km of cabling.
Following a period of early contractor involvement, work started on site on 13 September 2021 and was completed on time and budget on 21 November 2021. The client's delivery partner and NEC project manager was Bechtel Infrastructure Ireland Limited, and the contractor's subcontractors included Atkins, Brooklyn Engineering Services, Lagan Asphalt and Atmac Construction. Each were engaged under either an NEC4 Professional Service Contract (PSC) or an NEC4 Engineering and Construction Subcontract (ECS).
Collaborative win-win approach
The bold decision to close the airport completely for 10 weeks was considered preferable to night-time closures over a minimum of 10 months. It enabled the reconstruction to be delivered in a shorter time, in a safer environment and with fewer long-term impacts on airlines and passengers.
However, any delay in completion of the works would have resulted in cancellation of flights, loss of commercial revenues and damage to reputations. As such the client recognised that the programme and cost risks would best be managed by focusing on a collaborative win-win approach using NEC4 ECC Option A.
ECC option X22 on early contractor involvement was used to get the contractor's early input on construction methods, risks, programme and buildability. By harnessing the contractor's knowledge and experience in all these areas and then using that input to refine the design and programme, the parties were able to deliver a more economical scheme within the critical time duration.
The parties engaged in a collaborative ethos from the outset in line with the NEC requirement to act in a, 'spirit of mutual trust and co-operation'. Morning and evening briefings of both the client's and contractor's site teams together were a significant factor in enhancing interparty communications and fostering mutual trust and co-operation.
Throughout construction the project team aimed to ensure project risks were identified at an early stage and proactively managed and mitigated. During project meetings held at the start and end of each day, all potential risks were identified using the NEC early warning process and recorded on the risk register. Decisions were made promptly and formalised with the issue of project manager instructions, while compensation events were notified and quotes submitted, agreed and implemented in a timely manner.
Benefits of using NEC
NEC requirement to act in a 'spirit of mutual trust and co-operation' encouraged a collaborative, win-win approach from the outset.
NEC-inspired collaboration helped to ensure this large runway reconstruction project was successfully completed within the tight 10-week airport closure period.
NEC option X22 enabled early contractor involvement on construction methods, risks, programme and buildability, leading to a more economical scheme.
NEC early warning process ensured all project risks were identified at an early stage and proactively managed and mitigated during construction, resulting in completion on time and within budget.