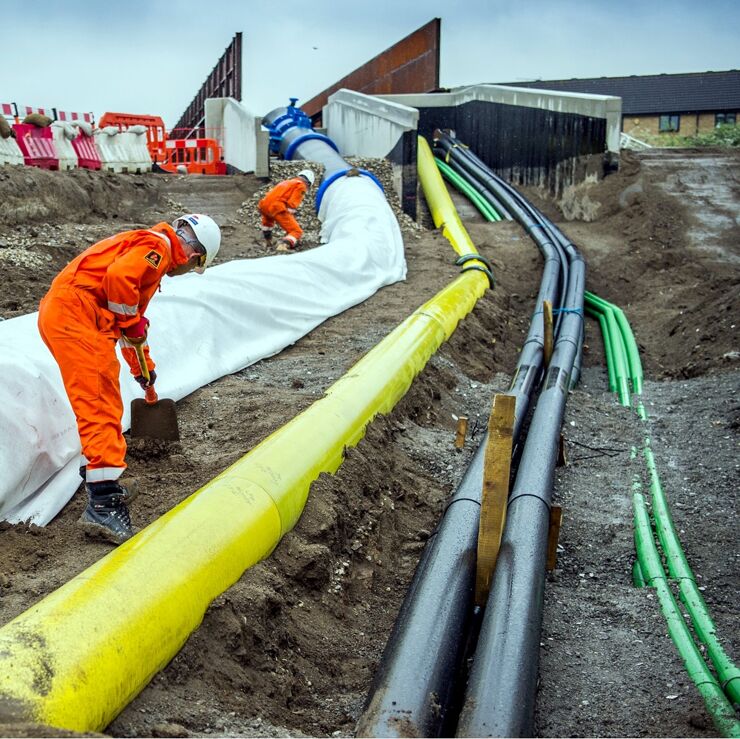 Transport for London's NEC-procured structures and tunnels investment programme (STIP1) aims to replace, strengthen and refurbish key bridges, tunnels and other structures throughout the capital. The complex utilities diversion contracts for the first works package of road-over-rail bridge replacements were completed in 2017.

The STIP1 work package 1 structures are A1 Upper Holloway Railway Bridge, A127 Ardleigh Green Railway Bridge, A406 Power Road Railway Bridge and A1 Highbury Corner Bridge. In the first three, all existing utilities were diverted onto permanent service bridges alongside the existing bridges prior to them being replaced. Having the utilities in their own service corridor will avoid future maintenance requiring access to the highway and therefore reduce disruption to road users.

TfL awarded each of the three utilities diversion contracts to Skanska in 2016 under an NEC3 Engineering and Construction Contract Option A (priced contract with bill of quantities). With a total value of £7.5 million, the three contracts were started in May 2016 and completed by February 2017.

Ramboll and Parsons Brinkerhoff were joint-venture designers for STIP1 and Hochtief was the tier 1 contractor for all four bridge replacements. Project management was undertaken by TfL.
Early contractor involvement
Skanska commercial manager Nikki Evans says, 'Multi-utility diversion projects such as these are highly complex so early contractor involvement in the design was essential. This included liaison between TfL's designers and all utility companies to ensure they were satisfied with the design and the work to be done to their infrastructure.'

She says each contract involved a multitude of stakeholders – from asset owners, Network Rail, businesses, residents and TfL – so a real team effort was required to ensure success. The diversions were also undertaken in highly congested, constrained locations, adding to complexity.

'Thanks to the collaborative approach fostered by NEC, all three contracts were completed on or ahead of schedule and within budget. The supply chains were fully engaged throughout, with NEC collaborative workshops held to plan how to deliver these complicated projects in congested areas with limited time.

Ardleigh Green Bridge utilities diversion won the National Joint Utilities Group 2016 Minimising Disruption award, the Power Road Bridge utilities diversion won a Considerate Constructors 2017 Most Considerate Site bronze award and all three contracts were shortlisted for the 2017 British Construction Industry Awards.
Track record
According to TfL programme manager Graham Carter, 'NEC has a proven track record on projects delivered by TfL's projects and programmes directorate.

'At Upper Holloway, Ardleigh Green and Power Road, separate NEC contracts were required to deliver the utility diversions and main bridge replacement works. In each case, the two contracts overlapped and a collaborative approach between TfL, Skanska and Hochtief was required to ensure the utility diversions were delivered in time for the follow-on main works to commence as planned.

'NEC early warnings were actively managed to ensure that all parties worked side-by-side and in the interests of achieving the ultimate goal of replacing the structures. The utilities contracts were completed in time for the main works to commence and achieve critical rail possession milestones.'

Following successful utility diversions, the £30 million replacement of the 1868 bridge carrying the A1 Holloway Road over Upper Holloway station was completed in February 2017. The £37 million replacement of the 1922 Power Road Bridge carrying the A406 North Circular Road over Network Rail tracks will be completed in autumn 2018 while the new £37 million Ardleigh Green Bridge which carries the A127 Southend Arterial Road over Network Rail lines should fully re-open to traffic in spring 2019.
Benefits of using NEC
NEC contracts offer a proven and consistent approach to procurement across Transport for London's £4 billion road modernisation plan.
NEC fosters a collaborative approach to working, essential for successful delivery of complex multi-utility diversions involving a multitude of stakeholders.
NEC early warning and risk management processes help to ensure advance utility diversions are completed on time, with budget and with minimal disruption.