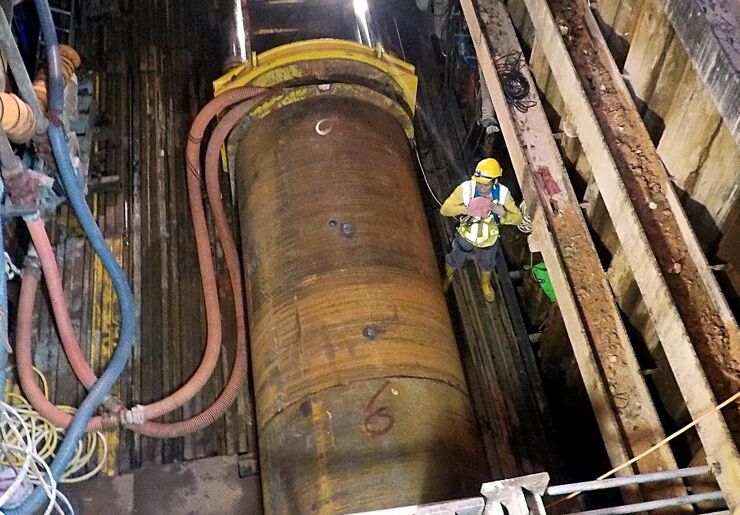 The Hong Kong government is using NEC to double the sewer capacity between its international airport at Chek Lap Kok and its sewage treatment works on nearby Lantau Island.
The new 6.5km long, 1.2m diameter ductile iron sewage rising main between Tung Chung new town sewage pumping station next to the airport and the Siu Ho Wan sewage treatment works is being procured by the Drainage Services Department (DSD) under an NEC3 Engineering and Construction Contract (ECC) Option D (target contract with bill of quantities).
DSD let the HK$300 million (£30 million) contract to a Penta-Ocean-Wo Hing joint venture in August 2016. The new sewer will run alongside the existing 1.2m diameter rising main at Cheung Tung Road, built to serve the airport and Tung Chung new town development over 20 years ago. Continuing expansion of both the airport and town mean the 60,000m3/day nominal capacity of the existing sewer will be exceeded by 2023.
There are also concerns about deterioration of the existing sewer due to unexpectedly high hydrogen sulphide levels in the sewage. Given it also runs next to the North Lantau Highway, the main coastal road to the airport and new Hong Kong–Zhuhai–Macao Bridge, any leakage could have severe economic and environmental consequences. Once flows are diverted into the new rising main, the existing sewer will be inspected and refurbished under a separate contract afterwards.
On completion of the rehabilitation work by end 2025, the combined nominal capacity of the two rising mains will meet the sewage flows projected up to 2038 and beyond. Consulting engineer is Black & Veatch Hong Kong Limited.
Better project outcomes
DSD project manager CM Choi says there were numerous reasons for choosing ECC Option D for the works. 'NEC target cost contracts provides better focus and more efficient project outcomes than traditional contracts. They incentivise cost saving, encourage better project management and improve management of risk. They also reduce the potential for disputes, provide transparency of financial performance with open-book accounting, and are written in simple, non-legal English.'
He says NEC communications processes and collaboration have been enhanced by co-locating the project team in a joint site office and by holding regular meetings. 'This has encouraged the timely issue of NEC early warnings to raise the awareness of potential risks which could adversely affect time, cost or quality of the project. These have then been promptly followed by proactive risk-reduction meetings to solve problems in no-blame culture.'
Examples of NEC collaboration include liaison with the HK$45 billion (£4.5 billion) Tuen Mun–Chek Lap Kok Link connecting the northwest New Territories to the North Lantau Highway, which is being carried out concurrently adjacent to the contract. 'We liaised closely with the adjacent project team on coordinating temporary traffic arrangements, resolving interface issues and gaining early site possession to mitigate any potential delays,' says Choi.
'As Cheung Tung Road was the alternative route to the North Lantau Highway during an emergency, there were stringent traffic restrictions on our construction work. Through close liaison with the local traffic management liaison group as well as the local stakeholders by the project team, we were also able to minimise the impact of the restrictions.' He adds that communication and prompt status reporting with local stakeholders, as well as between the project team members and staff, was further enhanced by setting up WhatsApp messaging groups.
Benefits of using NEC
NEC encourages a change in mindset and a more collaborative and co-operative attitude in project participants.
NEC target cost contracts and their pain/gain sharing mechanism help to deliver real cost savings.
NEC leads to better management of risk due to proactive joint problem solving and speedy decision making.
NEC processes for early agreement of variations reduces delay and uncertainty in the final account process, reducing the potential for disputes.