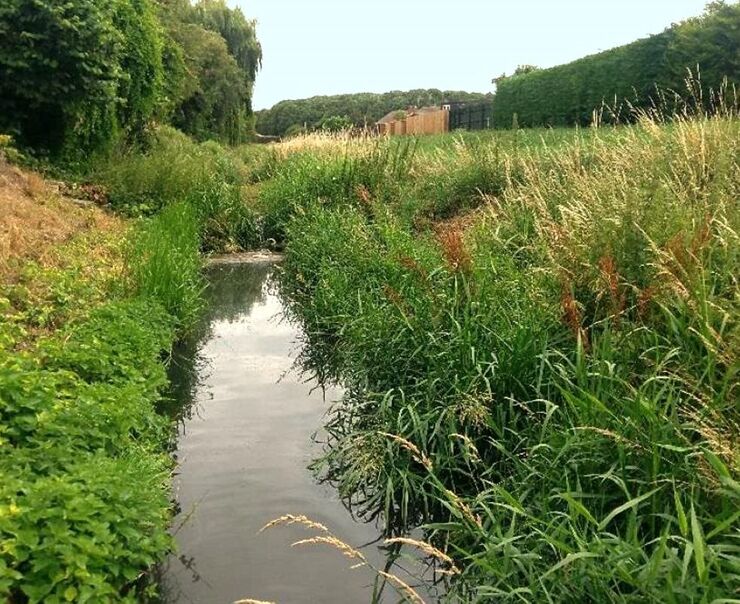 The Environment Agency has completed a highly sensitive, NEC-procured urban watercourse improvement in Peterborough, Cambridgeshire, UK. The £1.3 million, 5 year project has significantly improved the ecological status of the Werrington Brook, a tributary of the River Welland. The project was highly commended for the Infrastructure Maintenance Project of the Year Award in the 2018 British Construction Industry Awards.

The works to improve the habitat and water quality were procured under the Environment Agency's £2.5 billion, 10 year, NEC-procured water and environment management framework launched in 2013. Framework partner Capita Real Estate and Infrastructure was engaged under an NEC3 Professional Services Contract (PSC) to design and deliver improvements along 3 km of the brook, benefitting 7 km of waterbody, in partnership with local stakeholders.

The Werrington Brook sub-catchment totals 71km2 in area and includes Marholm Brook, Paston Brook and Cuckoo's Hollow, a much-valued local lake and green space in the suburb of Werrington. The project involved re-engineering a heavily modified and silty watercourse into a more natural, accessible and ecologically sustainable stream.
Substantial re-engineering
According to project manager Sam Hooley, 'The channel was substantially re-engineered with berms, pools and riffles over five reaches to improve hydro-morphology and sinuosity, increasing the energy of the water flow, particularly during drier conditions in summer. The design also delivered ecosystem services that process pollutants, reduce phosphates, improve dissolved oxygen and introduce sustainable sediment management.'

He says NEC was ideally suited to the project as the project team were working in close collaboration with the local community. 'As such there were likely to be many changes to the design over the project life cycle. We also knew we would be looking to add construction support and some design options considerations would need further exploration once initial ideas were evaluated.'

Hooley says the NEC3 Professional Services Contract worked well for allowing changes to be incorporated once the initial scope had been agreed. 'In practice we expanded the initial scope and made changes – including both increases and decreases in cost – using the NEC early warning and compensation event mechanisms.'
Cost-effective delivery
As a result he says the project team were able to make quick decisions and implement changes without delaying work on site. 'Resolving issues in a timely and collaborative approach has definitely resulted in a cost-effective delivery of what has been a very successful project.'

Driven principally by the European water framework directive, the project was delivered in partnership with Peterborough City Council, Anglian Water, Peterborough Environment City Trust (PECT), Cranfield University, local community group RiverCare and local contractor Phil Wright Excavations.

Speaking after the BCIA awards, Jo Jolly, deputy director at the Environment Agency, said, 'This project is a fantastic example of great collaborative working to achieve real improvements in water quality and value for money.

'Through engagement with communities, and great communication across the integrated team, Werrington Brook is now much more resilient to changing environmental conditions. A great outcome for people and for wildlife, and this award is really well-deserved recognition for the team.'
Benefits of using NEC
NEC contractual requirement to work in 'a spirit of trust and co-operation' helped to ensure collaborative working with all partners and stakeholders on this socially and environmentally sensitive project.
NEC change-management processes meant that numerous changes in scope could be readily costed and accommodated as the five-year improvement programme progressed.
NEC early warning and compensation event mechanisms ensured that issues were resolved in a timely and collaborative way, resulting in cost-effective delivery of a successful project.