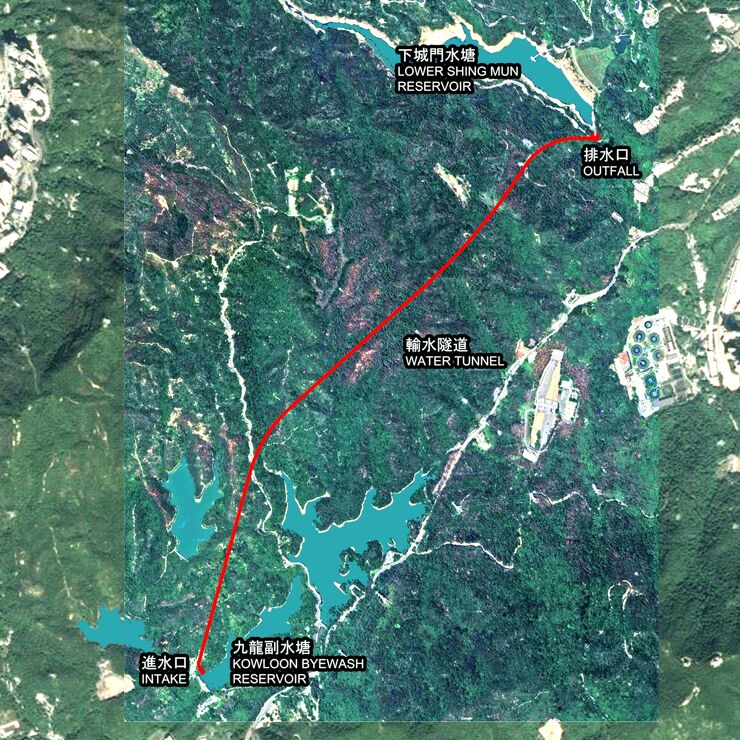 Hong Kong's Drainage Services Department (DSD) is using an NEC contract to build a major water tunnel between two existing freshwater reservoirs. Designed both to protect western Kowloon from flooding and conserve drinking water, it is one of the latest of over 60 NEC projects let by DSD over the past decade and helped it win the NEC Client of the Year Award in 2019.
The HK$449 million (£46 million) project involves using a tunnel boring machine to create a 2.8km long, 3m diameter water tunnel through hard rock, with water intake and outfall structures at each end. The tunnel runs from Kowloon Byewash Reservoir, part of the Kowloon group of reservoirs, to Lower Shing Mun Reservoir, north east of Kam Shan Country Park.
During heavy rains there is limit to the amount of surface run-off that can be collected by the Kowloon group of reservoirs, making Lai Chi Kok, Cheung Sha Wan and Sham Shui Po in western Kowloon vulnerable to flooding. Being able to transfer collected surface run-off to Lower Shing Mun Reservoir via the new tunnel, thereby creating a designated storage capacity in the Kowloon Byewash Reservoir to receive further surface run-off from the catchment, will improve flood resilience in western Kowloon as well as optimise freshwater storage.
DSD let the transfer tunnel project to contractor Bouygues Travaux Publics under an NEC3 Engineering and Construction Contract Option C (target contract with activity schedule) in February 2019. Black & Veatch Hong Kong Ltd was appointed as the designer and the NEC supervisor. The tunnel is due for completion at the end of 2020.
Collaborative working
Project manager CM Choi said DSD had leveraged its extensive NEC experience from the past 10 years to ensure collaborative working on this important tunnelling project. "In line with the NEC requirement to 'act in a spirit of mutual trust and co-operation', the project team had been co-located on site within two months of the contract award. This enabled them to communicate directly without emailing, thereby saving time and avoiding misunderstandings."
He said an initial facilitated partnering workshop had been held in May 2019, attended by all senior members of the project team. "All attendees openly discussed the challenges and expectations of collaborative working, culminating in a charter with clear and measurable targets for the team to work on. An engineering initiative from the contractor about a beneficial change to the tunnel alignment was also discussed, resulting in immediate decisions to move the proposal forward."
Choi believed overall that the project team had taken all the important steps to create an environment of mutual trust and common objectives. "With the right ingredients in place, it was then a matter of cascading this spirit thoroughly to all corners of the project team".
Keeping on programme
He said the important NEC project management processes − including bi-weekly risk reduction meetings, financial meetings and progress meetings − had all been established to help keep the project on programme and within budget.
"Already these meetings have been put to good use in identifying issues and agreeing on the follow-up actions, action parties and target completion dates at the earliest opportunity. To date, the top three issues tackled by the team have been obtaining approval to start working within the Lower Shing Mun Reservoir, implementing all the pre-work environmental conditions and pushing key temporary works designs forward."
He said the flexibility of NEC allowed for a pre-bid arrangement for the design, supply, delivery and commissioning of the TBM. "This is critical to the programme because the design and fabrication process would take about a year. It enabled the TBM subcontract to be awarded in April 2019, just six weeks after award of the main contract."
Tenders for subcontracts, materials, plant and equipment were also quickly implemented, with the project manager and supervisor providing the contractor with practical advice and prompt responses.
Benefits of using NEC
NEC requirement to act in "a spirit of mutual trust and co-operation" encourages the creation of a collaborative partnering environment, including working together in a co-located site office and attending regular partnering workshops.
NEC project management processes enable early identification of issues and agreement of follow-up actions, actors and deadlines, helping to keep the project on time and within budget.
NEC flexibility allowed a pre-bid arrangement for the TBM procurement, enabling this critical sub-contract to be let within just six weeks of the main contract award.