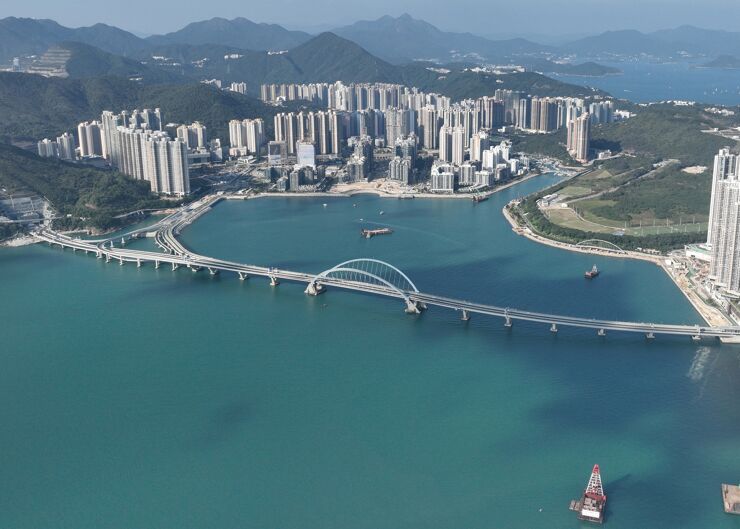 NEC has been used to deliver a vital new dual carriageway, cycle track and footpath across Junk Bay in Hong Kong. Despite Covid-19 restrictions and a highly challenging marine environment, the 1 km Cross Bay Link viaduct opened on time and within budget in December 2022.

The NEC-procured crossing forms part a new 5.6 km highway between Kwun Tong and the Tseung Kwan O development area, which includes a 2.2 km tunnel east of Lam Tin. The grade-separated interchange between the eastern tunnel portal and the crossing, plus associated link roads and foot bridges, were also delivered using NEC contracts (see case study Eastern approaches to Tseung Kwan O−Lam Tin Tunnel, Hong Kong).

The Civil Engineering and Development Department (CEDD) let the Cross Bay Link main bridge and associated works contract to China Road and Bridge Corporation (CRBC) under a HK$2.585 billion (£270 million) NEC3 Engineering and Construction Contract (ECC) Option C (target contract with activity schedule) in July 2018. The NEC project manager was the CEDD East Development Office and AECOM Asia Company Limited was the client designer and NEC supervisor.

The centrepiece of the crossing is a 200 m span steel bridge with two inclined tied arches. This 10,000 t structure and its two 100 m steel side spans were manufactured over 1,600 km away in Nantong and erected by float-over technology onto their respective piled piers. Off-site manufacture was also used for most of the remaining 600 m of reinforced concrete viaducts. All pile-cap shells, V-shaped and vertical piers, and 50−75 m long box-girder deck spans were cast in Guangdong and installed span by span with up to 5,000 t capacity floating cranes.
Encouraging collaboration
CEDD deputy project manager Hon-shing Kan says NEC contracts were chosen for the Cross Bay Link and associated connecting roads and footbridges to ensure full collaboration between the various interfacing works teams.

'We recognised from the outset that coordination between contractors undertaking different parts of this complex new highway network, most of which is by or over water, would be a major challenge. We therefore chose NEC contracts to encourage the project teams to work in a "spirit of mutual trust and co-operation" to achieve successful delivery. NEC also provided greater clarity, simplicity and flexibility in procurement approach than traditional contracts.'

He says NEC's collaborative ethos proved particularly beneficial when the contractor chose to minimise the risk of working in tidal seas up to 12 m deep and wind speeds up to 320 km/h by extensive use of off-site manufacturing. 'Development and implementation of the contractor's off-site solutions on such a large-scale project required a higher degree of collaboration compared to conventional construction. This is because certain planning decisions, especially regarding the off-site prefabrication works, had to be made jointly at a very early stage.

'Working under ECC Option C with a pain-gain-sharing mechanism, the collaborative spirit was thoroughly embraced by all parties involved in the construction, including the client, project manager, supervisor, contractor and its supply chain.'
Meetings and workshops
Kan says the NEC-inspired open dialogue regarding the off-site solutions and innovative construction technologies adopted took place between the various parties. 'This was arranged by way of formal progress meetings or informal workshops and forums on a regular basis, which allowed each party to present their latest ideas and views to the entire project delivery team. There was a genuine willingness to understand and incorporate each other's expertise and opinions within the wider context of the overarching project aims, and this proved particularly effective in managing the construction risks.'

Yanhua Wang, CRBC managing director, says a wide range of subjects were discussed at the events. 'This included the structural design of the prefabricated and precast elements, the maximum weight allowed for each unit, the set-up of the off-site facilities, the transportation and logistics, the plant and equipment needed for erection on-site, the arrangement of lifting points and the requirements of temporary works. We also discussed risk mitigation measures and programme and cost implications'.

He says the events additionally served as a highly effective platform for exchanging opinions, formulating strategies and making joint decisions where appropriate. 'Subsequent to these events, the off-site solutions were constantly revisited in conjunction with the latest situation on the project to incorporate necessary adjustments for dealing with any newly emerging challenges or risks. The NEC-inspired collaboration was also combined with clearly established definitions of responsibility for each party to ensure ownership and control'.

Despite delayed access to part of the site in 2018, the impact of the Covid-19 pandemic on resources and logistics since 2020, and the continually challenging maritime environment, the crossing was successfully completed to the agreed budget and programme in December 2022. The project won the Institution of Civil Engineers' 2021 Brunel Medal, the Construction Industry Council's (CIC) 2021 Construction Digitalisation Gold Award, the Local Grand Prize of the 2022 CIC Construction Innovation Award, and the Overall Best Award of the Association of Consulting Engineers of Hong Kong 2022 Annual Awards.
Benefits of using NEC
NEC requirement to act in a 'spirit of mutual trust and co-operation' ensured a fully collaborative approach with interfacing projects.
NEC ECC Option C with a pain-gain-sharing mechanism incentivised the contractor to deliver the project within budget and programme.
NEC-inspired collaboration facilitated extensive use of off-site manufacturing, which reduced the risk of working in a challenging marine environment.
NEC-nurtured team spirit drove the exploration and adoption of innovative technologies with comprehensive risk management for efficient project delivery.