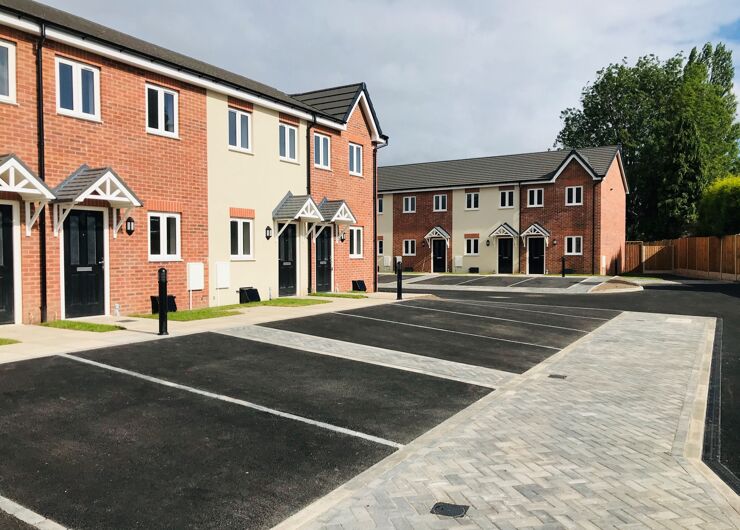 NEC4 contracts have successfully delivered a development of 11 new privately owned houses in Dudley, West Midlands, UK. It is believed to be the first time NEC4 has been used in the private residential sector.

Pioneering local developer Broadhaven Homes engaged contractor M&A Doocey under an NEC4 Engineering and Construction Contract (ECC) Option F (management contract) in June 2019 to deliver its James Close residential scheme, which was completed on time and within budget in August 2020. M&A Doocey employed 12 local subcontractors to carry out various elements of the works under NEC4 Engineering and Construction Short Contracts (ECSC), using a mix of lump sums and unit rates on the price list.

Broadhaven Homes acted as NEC project manager, and procurement services and NEC training was provided by Palm Commercial Services via an NEC4 Professional Service Short Contract (PSSC).
Works at the 2,200 m 2 site in the Pensnett area of Dudley included demolition of existing buildings and remediation of the site, 25 car-parking spaces, drainage, sewerage, electricity mains and a directionally drilled water main. The 11 new two-storey homes were completed in two terraces, with each 64 m 2 two-bedroom unit featuring brick walls, slate-effect tiled roofs, secured-by-design windows and doors, fully fitted kitchens and bathrooms, and front and rear gardens. Car charging facilities were also introduced.
Facilitating collaboration
Broadhaven Homes general manager Roger Summers says, 'Following the success of our first development at Tipton in Dudley, we wanted to adopt a contracting strategy on James Close and our future developments that facilitated greater collaboration with our supply chain, which in turn would ensure that all our schemes would be delivered within budget and to the anticipated programme.'
He says that although many house builders use bespoke contracts for new developments, a decision was made to adopt NEC4 as the preferred choice due to their collaborative nature. 'NEC4 contracts are unique in that they encourage risk to be managed via early warnings and early warning meetings. Since our homes need to be ready on the dates we agree with our private buyers, we place a significant emphasis on risk management to ensure that all risk is captured early and mitigated.'
Roger Summers says Broadhaven Homes decided at the start of the procurement process that the best available contracting strategy was an NEC4 ECC Option F management contract and a series of NEC4 ECSC specialist subcontracts. 'The design was established at an early stage such that risk associated with design changes was low. The subcontractors were therefore engaged on a mix of ECSC lump sum contracts and remeasure contracts.'
Uncomplicated contracts
Sean Kennelly of Palm Commercial Services says the simple nature of the NEC4 ECSC enabled the subcontractors to be engaged quickly and without any complications, and without needing excessive additional conditions. 'Risk was managed in accordance with the early warning process, which proved to be a great success. Compensation events throughout the works were only minor and the majority of compensation event quotations were implemented within the timescales required under each contract. There were also no issues in agreeing final accounts with the management contractor and subcontractors as result of the successful early warning and compensation event process.'
Roger Summers concludes, 'Our decision to use NEC contracts on our latest development helped us to engage our supply chain in a professional, collaborative and efficient manner. The process helped to establish a solid basis for us to move forward with our subcontractors, with all parties having a clear understanding of their contractual obligations and responsibilities. As our developments increase in size, having the right contractual arrangements in place will be essential. We therefore plan to continue using NEC4 contracts as we grow, including for engaging our design consultants.'
Benefits of using NEC
NEC contract suite provided a flexible range of procurement options, including NEC4 ECC Option F for the main management contract, NEC4 ECSC lump sum and remeasurement contracts for the specialist subcontracts, and NEC4 PSSC for the procurement consultant.
The plain and simple language of ECSC meant subcontractors were quickly engaged without complications or excessive additional conditions.
NEC obligation to work in a 'spirit of mutual trust and co-operation' facilitated greater collaboration with the supply chain, helping to ensure the development was completed on time and budget.
NEC contracts encouraged risk to be managed through regular early warning meetings, ensuring all risk was captured early and mitigated.
The NEC compensation event process worked smoothly, enabling quick settlement of final accounts with the management contractor and subcontractors.