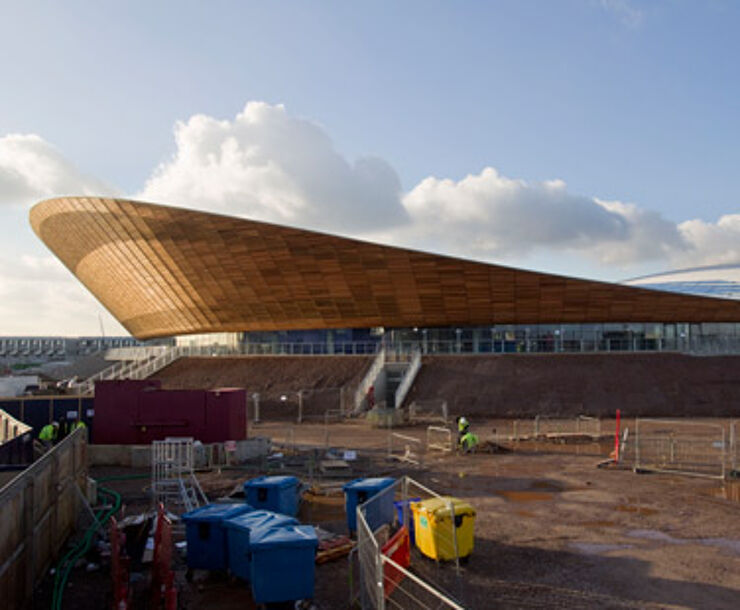 The 6000-seat Velodrome was the first major venue to be completed at the Olympic Park in London for the 2012 Olympic and Paralympic Games. The permanent venue was completed ahead of programme and to budget by contractor ISG for the Olympic Delivery Authority (ODA). Like all other major London 2012 venues, it was procured under an NEC3 Engineering and Construction Contract option C (target contract with activity schedule).
The dramatic structure features a 12,000m2 double-curvature cable-net roof, red cedar external wall cladding and a 250m International Cycling Union approved cycling track made from 56km of sustainably sourced Siberian pine. After the Games the Olympic BMX circuit is retained and reconfigured to accommodate all levels of ability and a 1.6km road cycle circuit and 7km of mountain bike trails are added to form the Lee Valley VeloPark.
Most energy efficient venue
The Velodrome is the most energy-efficient venue in the Olympic Park, achieving a 31% improvement over 2006 Building Regulations part L requirements. The compact design minimises heated air volume and extensive use is made of natural ventilation and lighting. Potable water demand has been reduced by 73% installing rainwater harvesting and low-water sanitary ware.
The design team of Hopkins Architects, Expedition Engineering and service engineer BDSP also sought to minimise the amount of construction material used through a detailed value engineering exercise. This resulted in contractor ISG developing a lightweight 30kg/m2 cable-net system, which saved 1000t of steelwork and reduced the size and depth of foundations.
Reasons for selection of NEC3
According to ODA Deputy Head of Procurement John Fernau, "The NEC3 Engineering and Construction Contract was selected for procuring the Velodrome and other London 2012 venues as it provides a collaborative approach supporting timely delivery, which was fundamental to ODA. There is full visibility of costs supporting effective programme budget management, and full visibility for assessing the impact of change, for example as designs were developed."
"The contracts provide a prescribed methodology for project management, with processes and procedures to manage delivery and support a standardised contract management approach. They also have a proven record of use and understanding within the supply chain, in contrast to potential market uncertainty over any new ODA bespoke contract."
"ODA made a number of enhancements to the contract to support its policy ambitions, including enhanced payment terms (18 days), enhanced dispute-avoidance provisions, which include the use of an ODA appointed independent disputes avoidance panel, sub-contract provisions including the use of competitive tendering and flow-down of other policy requirements, and changes to insurance clauses reflecting ODAs use of project insurance."
Benefits of using NEC
The use of target arrangements provided contractors with a clear incentive to drive efficiency and programme delivery, evidenced by the construction progress and cost performance achieved. ODAs supply chain demonstrated positive behaviours focused on the delivery of ODAs objectives.
ODA's formal dispute-avoidance mechanisms were only used to a very limited extent, a result of proactive use of the contract to resolve issues as they arose collaboratively.