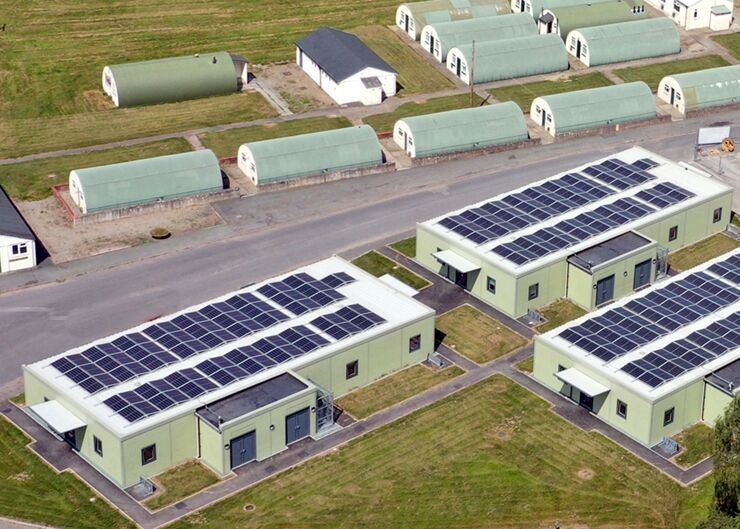 NEC contracts are being used to deliver over 70 British Army accommodation blocks in the UK that have net zero greenhouse gas emissions. The £85 million building programme has won numerous awards including the prestigious Environmental Project of the Year award in the 2022 British Construction Industry Awards.

The Net-Zero Carbon Accommodation Programme (NetCAP) is being delivered through the National Training Estate Prime Contract, which the Defence Infrastructure Organisation (DIO) let to Landmarc Support Services in 2014. Based on an NEC3 Term Service Contract, this mainly covers hard and soft facilities management across the 190,000 ha UK Defence Training Estate. The contractor then sublet a design, planning and assurance framework to Fairhurst under an NEC3 Professional Services Short Contract (PSSC), and a construction framework to Reds10 under an NEC3 Engineering and Construction Short Contract (ECSC) for the delivery of NetCAP.
Following the outbreak of Covid-19 in March 2020, the government gave the Army extra funding as part of its Fiscal Stimulus programme to upgrade its armed forces accommodation, resulting in NetCAP being accelerated to deliver an initial £38 million of the programme, within an 18 month period.
Each NetCAP building or group of buildings was procured on a call-off basis under the respective short contracts. Work started in April 2020 and 56 units were completed on time and budget by early 2023, with the remainder being due for completion by mid-2023.
A typical single-storey modular building provides 46 bed spaces, showers and toilets, and can be subdivided for various combinations of male and female soldiers and cadets. Each block is equipped with air-source heat pumps, rooftop solar panels and smart energy control systems, resulting in EPC ratings as low as -10. Later buildings also have rainwater harvesting and some have an upper storey. The use of modern methods of construction (MMC) has also substantially reduced onsite construction waste by 80%.
The blocks were manufactured, fully assembled and tested in Reds10's factory in Driffield, East Yorkshire. They were then disassembled and delivered as individual modules to a total of 13 Training Estate bases across England. Following site enabling works by locally engaged Landmarc suppliers, again using short form contracts, Reds10 installed concrete pad foundations and craned the typically 10 t modules into position. Total manufacture and on-site assembly for each block took around 13 weeks, resulting in minimal disruption to defence operations.
On time and budget
Brigadier Jonathan Bartholomew, DIO's Head of the Overseas and Training Region said, 'Working closely with our industry partner, Landmarc, and Reds10 we are proud to have delivered the new accommodation blocks on time and during the current climate. These new buildings are modern, flexible and efficient and will support troops on exercise, providing them with the high-quality accommodation that they expect and deserve.'
Peter Nicol, Landmarc's Programme Director, said the NEC requirement to act in a, 'spirit of mutual trust and co-operation' helped to create a high level of collaboration throughout the programme. 'The active participation of all parties was critical to successful delivery of such innovative and highly energy efficient buildings in challenging circumstances. As well as working throughout the height of the Covid-19 pandemic, we also had the constraint of building in restricted sites where it was vital to have minimal impact on military operations and training.'
He said the simplicity of the PSSC and ECSC, with their straightforward price lists of rates and unit costs proved ideal for repetitive procurement of the standardised modular blocks. 'Nevertheless, the lessons learned from each installation were collaboratively carried forward into the next, resulting in progressive improvement. For example, we continually lowered the building emissions rates from +12 kg/m2 for the prototype to -5, -7, -9 and eventually -10 kg/m2 for successive blocks.'
Peter Nicol adds that the NEC early warning process was used frequently to flag up issues that may have effected cost and programme, enabling them to be mitigated at the earliest opportunity. 'Overall there has been a great deal of transparency, trust and collaboration between the Army, DIO, Landmarc, Fairhurst and Reds10 as a vertically integrated supply chain, ensuring this highly innovative programme was delivered on time and budget'.
Benefits of using NEC
NEC flexibility enabled additional accommodation works to be sublet under NEC3 TSC as call-off frameworks under back-to-back PSSC and ECSC short contracts.

NEC obligation on the parties to work in a, 'spirit of mutual trust and co-operation' helped to create a high level of collaboration in delivering the innovative and highly energy-efficient buildings.

Simplicity of short contracts and their price lists proved ideally suited to repetitive procurement of the standardised modular blocks, while also allowing for continual improvement.

NEC early warning process helped to ensure the buildings were completed on time and budget despite Covid-19 and military site restrictions.