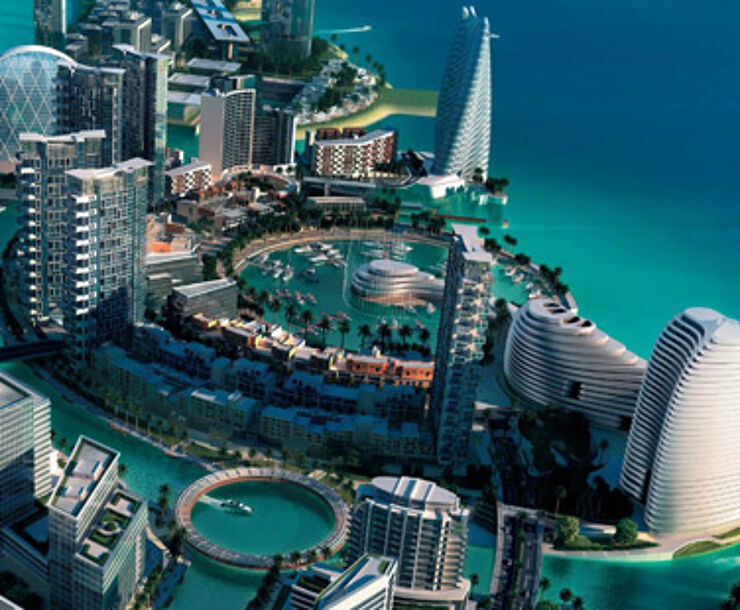 Al Raha Beach is a 500ha mixed-use waterfront development adjacent the main highway leading into Abu Dhabi from Dubai in the United Arab Emirates. Around 70% of the 11km long development is being built on reclaimed land and islands.
The original scheme comprises eleven mixed-used precincts of marinas, hotels, shops, offices, houses and apartments up to 40 storeys high, with accommodation for over 120,000 people. Infrastructure requirements include six major interchanges with the existing highway; 75 bridges; extensive road, light rail and canal networks; and service installations.
Pioneering NEC3 in the Middle East
In 2007 leading United Arab Emirates developer Aldar Properties took the pioneering step of adopting NEC3 to procure the development, believed to be the first time the contract has been used anywhere in the Middle East.
"Implementation of the NEC throughout the complete supply chain at the Al Raha Beach development is not only a first but also a massive step forward in the region," said Aldar Development Director Michael Cox. "We believe the NEC will attract world-class vendors required for the efficient and timely delivery of the Al Raha Beach development."
Completions in first three years
The main elements of the 500ha development set up in November 2006 under Managing Director Christopher Wilkinson and delivered by Aldar's joint venture Aldar Laing ORourke under NEC3 contracts have been:
Aldar's new headquarters building
The Al Bandar residential precinct
Roads and interchanges with steel and concrete bridges
Utilities and other infrastructure.
Site services such as workforce accommodation and catering were also provided under NEC3 Term Service Contacts.
In 2008 Aldar had to react to the world economic downturn leading to many of the Al Raha Beach projects being postponed or being subject to rationalisation. However, NEC3 contracts are still being used on the extension to the existing Al Zeina precinct scope, which was covered by a new contract awarded in early 2010.
Benefits of Using NEC
Providing a common procurement approach throughout the supply chain, ranging from consultant's appointments, main contarcts, sub contracts, delivery frameworks and term contracts for site services
Higher degree of fairness to all parties attracts world class suppliers and management staff.
Greater ease of understanding contract terms and conditions.